What the Reviewers Are Saying
"Joan H. Young has become a favorite author of mine. Read this book, you will not be disappointed!" –Cynthia H.
"The book is well paced, with moments to relax and take a breath before things get exciting again." –Ken Brown
"The mystery builds well and clues are dispersed with great timing as the story unfolds… Two thumbs way up from this reader." –Linda A. Freed
About the Author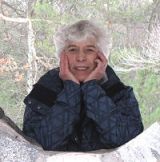 Joan Young has enjoyed the out-of-doors her entire life. Highlights of her outdoor adventures include Girl Scouting, which provided yearly training in camp skills, the opportunity to engage in a 10-day canoe trip, and numerous short backpacking excursions. She was selected to attend the 1965 Senior Scout Roundup in Coeur d'Alene, Idaho, an international event to which 10,000 girls were invited. She has ridden a bicycle from the Pacific to the Atlantic Ocean in 1986, and on August 3, 2010 became the first woman to complete the North Country National Scenic Trail on foot. Her mileage totaled 4395 miles. She has recently begun writing more fiction, including short stories and cozy mysteries.
Visit Joan at…
Anastasia Raven is running from the pain of a failed marriage, and hopes to hide from the world in an old farmhouse she has purchased at the edge of Dead Mule Swamp. When a hundred-year-old newspaper she finds inside a wall is stolen by Cliff Sorenson, and then Cliff disappears, Ana is convinced that the paper holds the key to the mystery. But what old news could be important enough to put Cliff in danger?