Written a century before by British clairvoyant Permelia Lyttle, the diary holds many other secrets: a murder mystery and Permelia's strange life in the Women's Lunatic Asylum, where she was forced to give psychic readings to the power elite of her day. Prophecies unite in this satirical novel of eccentric villains, top-level conspiracies, Victorian transvestites, the Apocalypse, and one really terrific dog. Follow Luray's intellectual low-speed chase, inept gunplay, and finding the meaning of life doing the naked tango with the sweet but quirky Abigail Lind.
What the Reviewers Are Saying
"Jon Robertson has crafted an engaging tale that's quirky and imaginative and just a whole lot of fun." –V. Quinlan
"The most fun I have ever had reading a book!" –Sandra Baker
"I picked up this book thinking I could read it at a liesurely pace but found, instead, how hard it was to put down." –A. Pennington
About the Author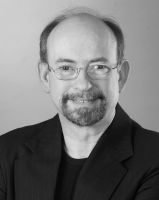 Jon Robertson is an author, editor, and publisher with experience in newspaper reporting, magazine feature writing, and photography. He was a book acquisitions editor for ten years and a magazine editor for six years. He has written ad and promotion copy for the publishing and theater trades. He is also a published and produced playwright. Jon is also the founder and publisher of Vegan Heritage Press, an independent book publishing company, in Woodstock, Virginia. A native of Mount Pocono, Pennsylvania, Jon attended the Pennsylvania State University and has a B.A. in English with minors in philosophy and education. He lives in Virginia's Shenandoah Valley, where he writes, publishes, and enjoys life in the country.
Visit Jon at
Luray Flitch is a neurotic, pill-popping recluse who discovers a prophetic Victorian diary, only to learn that the end of the world is just around the corner. With his trusty dog, Jason, Luray ventures out to warn the world that the end is near, if only people would stop trying to steal the diary.